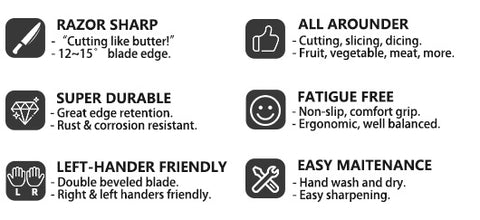 Blade Length: 6.5 Inch

Blade Material: VG10 cutting core+ 33-layer Real Damascus steel on each side
Handle Material: G10
Hardness Grade:  HRC 60±1
Product Series: Classic Series
- VG10 blade core surrounded with 33-layer Real Damascus steel on each side.
- 60±1 Rockwell Hardness ensures exceptional edge retention.
- Full tang construction with ergonomic triple-riveted handle for stable and easy cutting.
- G10 handle is durable, mould-resistant, and corrosion-resistant.
- Special ice-forging process promises a long-lasting sharpness and edge retention.
- Double bevel blade edge, 15° edge angle on each side.
Warm Reminder:
1. Please do not use it to cut bones.
2. Clean with water and mild detergent after each use.
3. Hand wash.
4. Dry it thoroughly.
5. Please keep the knife away from your body when cutting.
6. When not in use, please keep the knife safely in the sheath, knife bag, or knife holder.
7. Do not play with knives.
Very impressive!
I do not know a lot about knives. However, the sharpness is like slicing a tomato very thinly and no mess. Very impressive!
Sharp and sturdy blade
Sharp and sturdy blade Cuts easily through soft tomatoes. The handle is a bit heavy but it's a good balance to hold and have a good grip.
Excellent
The handle is coming loose from my old chef's knife and it is getting harder to keep in sharp so I upgraded. At first this knife struck me as a little heavy, but now that I have gotten used to the weight, it is perfect. It is a very sharp, very good looking knife, and the weight actually helps keep pressure on whatever is being cut