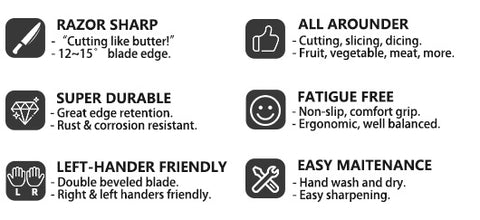 Blade Length: 8 Inch
Blade Edge: Double beveled, friendly to both right and left-handers.
Blade Material: VG10 Steel Core & 72-layer Real Damascus Layered Steel
Handle Material: ABS
Can be used for fruit, vegetables, meat, and more.
Knife Type: Chef Knife, Multi-purpose Knife
Product Series: Sonne Series

- Japan VG-10 steel blade core with 36-layer Real Damascus steel on each side.
- Mosaic-rivet ABS handle with an ergonomic design for comfort grip.
- Full-tang construction to achieve a superior knife balance.
- 12~15° edge angle for razor-sharp knife blade and ideal cutting force.
- HRC 60±1, premium durability.
- Superior sharpness, hardness & strength, better edge retention.

Sunnecko 8-inch full tang Damascus steel chefs knife is made of authentic 72-layer Damascus steel with a VG10 "Super-Steel" cutting core to ensure flexibility and maximum edge retention without dulling or chipping. It's a great helper for both beginners and professional chefs. 

The blade of this VG10 Damascus kitchen knife is hand sharpened and honed by experienced craftsmen at a 12-15 degree angle per side to reach a super sharpness. It is ideal for mincing, slicing, and chopping vegetables and meat.

Full-tang construction offers unrivaled balance in hands.
No fatigue, no misdirected cuts.
Warm Reminder
1. Please keep the knife away from your body when cutting.
2. When not in use, please keep the knife safely in the sheath, knife bag, or knife holder.
3. Do not play with knives.
Great
Great knife, good quality.
Super happy with this knife
This is the nicest kitchen knife I own and is miles better than the other cheapo knives and at a reasonable price point. I am super happy with this knife.
Impressive knife
The knife was exactly as advertised, extremely sharp, well balanced and fits my hand very well! I use this knife as well as others I've bought in the same group. Mostly cooking, it's been used for a variety of different tasks. I definitely would recommend and buy again. Outstanding product!