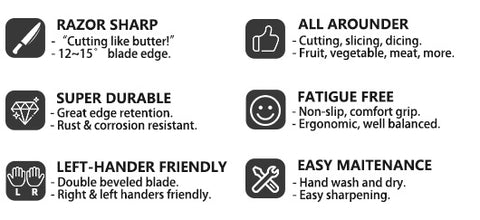 Set Includes: 1pc 8 Inch Chef Knife + 1pc 5 Inch Utility Knife + 1pc Wooden Knife Storage Box

Blade Edge: Double Bevel
Blade Material: Japan VG10 Steel Core & 72-layer Real Damascus Steel
Handle Material: VG10
Knife Type: Kitchen Knife Sets
Product Series: Elite Series

8" Chef Knife
An indispensable all-purpose kitchen knife that can be used for chopping, mincing, slicing, and dicing just about any ingredient.

5" Utility Knife
The utility knife is a versatile knife.

Warm Reminder
1. To protect the sharpness and glossiness of the knives, please DO NOT wash the knives in the dishwasher. Clean and dry them immediately after hand washing to get the most out of them.
2. Please kindly put the knife set in a dry and ventilated place to avoid moisture accumulation.
3. Please keep the knife away from your body when cutting.
4. When not in use, please keep the knife safely in the sheath, knife bag, or knife holder.
5. Do not play with knives.
Love it!
Love how dainty yet powerful!
Recommended.
This chef knife set is great. It is easy to hold and the packaging is good.
Perfect for everyday use!
I always wanted a good knife set. These two turned out to be pretty good. I have used Ikea ones before. I know they are cheaper but if you like to keep just two good knives rather than a set go for this. Plus they gave this knife cleaning cloth with it which was super cute.
Love them just what I needed
Feels safe and really good in my hand. The best part it is one entire piece and won't come apart and won't hold bacteria. Get it you won't regret it !