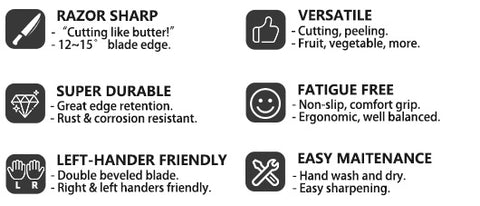 Blade Length: 3.5 Inch
Blade Edge: Double Bevel
Blade Material: Japan VG10 Steel Core & 72-layer Real Damascus Steel
Handle Material: G10
Knife Type: Paring Knife
Product Series: Elite Series

This knife is made of authentic 72-layer Real Damascus steel with a VG10 "Super-Steel" cutting core to ensure flexibility and maximum edge retention without dulling or chipping.

The blade is hand sharpened and honed by experienced craftsmen at a 12-15 degree angle per side to reach a super sharpness. The paring knife could effortlessly handle precise tasks like mincing a shallot, making perfect orange segments, peeling apples, and deveining shrimp.

The ergonomic military-grade G10 handle is resistant to cold, heat, and moisture.
Full-tang construction offers unrivaled balance in hands.
No fatigue, no misdirected cuts.
Warm Reminder
1. Please keep the knife away from your body when cutting.
2. When not in use, please keep the knife safely in the sheath, knife bag, or knife holder.
3. Do not play with knives.
Sharpness is power.
Absolutely phenomenal knife! Bought it for my mother as a gift and she loves it. She can cut vegetables with ease and cut other foods with great precision. Nice handle. She now has a big smile on her face and sometimes she plays around with it and says "Hyaaa!" and demonstrates to me how sharp it is.
best paring knife I've ever used
Bon Couteau
Bien affuté. Poid et équilibre correct. Bon alliage métal.
Blitz Lieferung...danke für schnelle Lieferung
Super messer, scharf wie katana schwert, einfach super
schön
Liegt super in der Hand undhat ein schönes Design.