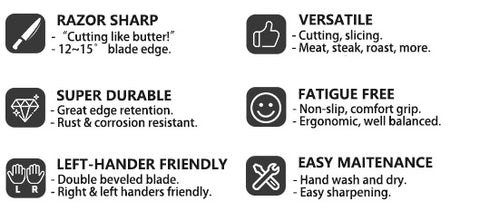 Set Includes: 6pcs Steak Knives + 1pc Wooden Box

Blade Length: 5 Inch
Blade Material: VG10 cutting core+ 33-layer Real Damascus steel on each side
Handle Material: G10
Hardness Grade: HRC 60±1
Product Series: Classic Series
- VG10 blade core surrounded with 33-layer Real Damascus steel on each side.
- 60±1 Rockwell Hardness ensures exceptional edge retention.
- Full tang construction with ergonomic triple-riveted handle for stable and easy cutting.
- G10 handle is durable, mould-resistant, and corrosion-resistant.
- Special ice-forging process promises a long-lasting sharpness and edge retention.
- Double bevel blade edge, 15° edge angle on each side.
Warm Reminder:
1. Please do not use it to cut bones.
2. Clean with water and mild detergent after each use.
3. Hand wash.
4. Dry it thoroughly.
5. Please keep the knife away from your body when cutting.
6. When not in use, please keep the knife safely in the sheath, knife bag, or knife holder.
7. Do not play with knives.
Molto belli ed affilati
Qualitativamente moto buoni.
Se durano quanto sono belli, siamo messi molto bene.
Ottimo per la carne ma non solo.
Ottima rifinitura. Veri coltelli affilati per tagliare la carne, ma non è più possibile rinunciare a loro anche per la pizza, salumi e altro.
Schneidet sehr gut.
Sehr Scharf, schneidet Finger und Steak's wie Butter.
Ich würde mir die Messer noch mal kaufen
Die Messer sind ohne Wellenschliff, gefällt mir viel besser wie mit Zacken. Sehr scharf sind die auch, also beste Voraussetzungen für ein gelungenes Steak.