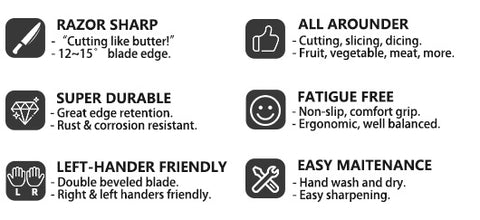 Set Includes: 1pc 8 Inch Chef Knife, 1pc 5 Inch Santoku Knife, 1pc 3.5 Inch Paring Knife, 1pc 7 Inch Nakiri Knife, 1pc Kitchen Shears, 1pc Wooden Knife Block
Blade Edge: Double Bevel
Blade Material: Japan VG10 Steel Core & 72-layer Real Damascus Steel
Handle Material: ABS
Knife Type: Knife Block Sets, Kitchen Knife Sets
Product Series: Sonne Series
Warm Reminder
1. Please keep the knife away from your body when cutting.
2. When not in use, please keep the knife safely in the sheath, knife bag, or knife holder.
3. Do not play with knives.
very good knife
Very good knife.Thank You.
Wow these this is a real nice Knife Set HIGHLY RECOMMEND !!!
The knifes are of the highest quality and are super sharp. I was real impressed with the over all quality of the wood block , along with the six knifes.
Wow these are sharp
Up front warning, super sharp! I removed them all from their protective sleeves and then the blade caps, but without thinking, grabbed the blade and sliced my hand. It is so sharp that I didn't even grab it hard before it cut me. But stating this, these are Great quality, well made knives.
impressive
This knife made that impression. I have all the stars lined up for this one.