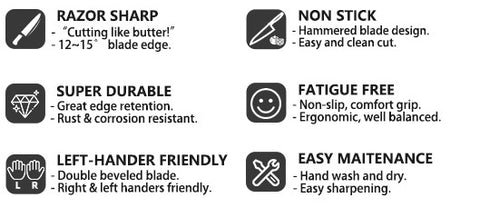 Blade Material: German 1.4116 High Carbon Steel
Handle Material: Pakkawood
Blade edge: Double Bevel
Product Series: K135 Series
Knife Type: Santoku Knives, Japanese Kitchen Knives

This 7-inch Santoku knife is constructed from high-carbon German steel 1.4116 which is tempered and hardened to a Rockwell Hardness of 56-58. Its blade remains razor-sharp longer than any other steel and resists rust, stains, and corrosion. Each blade is hammered to create hollow air pockets that reduce drag, allowing the blade to glide through food without sticking.
 
It can be used for your daily kitchen tasks of chopping, slicing, dicing, and mincing all kinds of meat, vegetables, fruits, and bread. It is suitable for both home kitchens and restaurants.

The Pakkawood handle minimizes wrist tension while providing a secure, comfortable grip no matter your hand size. Even after prolonged use, your palm and wrist will not feel fatigued. Ideal for both professionals and cooking lovers.
Warm Reminder
1. Please keep the knife away from your body when cutting.
2. When not in use, please keep the knife safely in the sheath, knife bag, or knife holder.
3. Do not play with knives.
Great
Great does exactly the job it should. It's easy to hold whilst you're preparing food and the handle is comfortable to hold
Awsome knife
excellent knife, very well packed and cared for and the super nice case and bottle opener an excellent detail for those who like cooking! very happy with the purchase and the arrival time super good, cut everything without problem!
My Go To knife
This knife is very sharp and easy to use. I love how it cuts through chicken breast bones and any other meats effortlessly. I'm going to get rid of most of my other knives with the exception of a few small ones. I'm certainly going to purchase another one or two.
立派な木製ケースに入っている。
あまりに立派な木製ケースに入っているので驚きました。
立派なケースなので、プレゼントとしても喜ばれるかもしれません。なお、包丁の切れ味を紙を切って試しましたが、素晴らしい切れ味です。持ち重りや重量バランスもほぼ理想的な感じを受けました。たくあんを切ったら、あまりの切れ心地の良さに、漬物ではなくてケーキを切っているかのように感じられました。