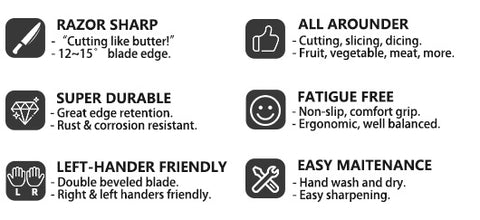 Set Includes: 1pc 8 Inch Chef Knife + 1pc 8 Inch Carving Knife + 1pc 5 Inch Utility Knife + 1pc Wooden Box
Blade Material: VG10 cutting core+ 33-layer Real Damascus steel on each side
Handle Material: G10
Hardness Grade: HRC 60±1
Product Series: Classic Series
- VG10 blade core surrounded with 33-layer Real Damascus steel on each side.
- 60±1 Rockwell Hardness ensures exceptional edge retention.
- Full tang construction with ergonomic triple-riveted handle for stable and easy cutting.
- G10 handle is durable, mould-resistant, and corrosion-resistant.
- Special ice-forging process promises a long-lasting sharpness and edge retention.
- Double bevel blade edge, 15° edge angle on each side.
Professional kitchen cutlery for my kitchen
I recently ordered a cutlery set from Sunnecko. When I received them I was very surprised on the quality, the finish and the quality and sharpness of the blades.
There was one 5" knife with a blemish on the blade and pit in the spine of the knife. I was so pleased with Sunnecko when they sent me a replacement without a dozen questions or endless copies of claim forms or receipts. They responded within 48 hours and said a replacement was shipped. And it arrived in perfect condition in a nice presentation box with instructions and wiping cloth. I would highly recommend Sunnecko and its worth the wait for the shipment time from mainland China. Thank you Sunnecko!
Magnifique, très très belle qualité
1ère bonne surprise le coffret est arrivé plus tôt que prévu ! 2ème belle surprise le coffret un véritable écrin avec 3 magnifiques couteaux, n'étant pas poilue mon mari qui était à côté a fait le test des poils de bras et ce sont de véritables rasoirs ! Un acier de damas très très bien travaillé, un équilibre et une prise en main incroyable ! Bravo
A offrir ou a s'offrir ! Sincèrement je conseille ce coffret !