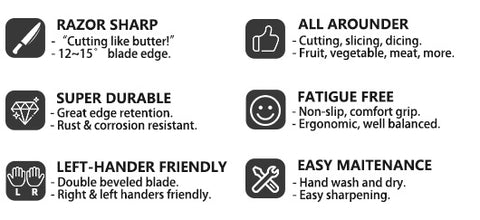 Set Includes: 1pc 8" Chef Knife + 1pc 5" Utility Knife + 1pc Wooden Box
Blade Material: VG10 cutting core+ 33-layer Real Damascus steel on each side
Handle Material: G10
Hardness Grade: HRC 60±1
Product Series: Classic Series
- VG10 blade core surrounded with 33-layer Real Damascus steel on each side.
- 60±1 Rockwell Hardness ensures exceptional edge retention.
- Full tang construction with ergonomic triple-riveted handle for stable and easy cutting.
- G10 handle is durable, mould-resistant, and corrosion-resistant.
- Special ice-forging process promises a long-lasting sharpness and edge retention.
- Double bevel blade edge, 15° edge angle on each side.
Warm Reminder:
1. Please do not use it to cut bones.
2. Clean with water and mild detergent after each use.
3. Hand wash.
4. Dry it thoroughly.
5. Please keep the knife away from your body when cutting.
6. When not in use, please keep the knife safely in the sheath, knife bag, or knife holder.
7. Do not play with knives.
Very good knife
Very sharp very high quality knife.
Very happy.
Very good knife.Thank You.
Very nice quality set
Very pleased with the quality!
Superbe couteau dans un étui magnifique
Très bonne qualité ! A voir dans le temps
Deux couteaux superbes avec une présentation de coffret qui donne un effet sympathique pour offrir
Love these knives
These may quite possibly be some of the best knives I have in my kitchen drawer. They are so beautiful and so well made. What I really love is it it's all one piece and the handle is not a separate park than the blade.