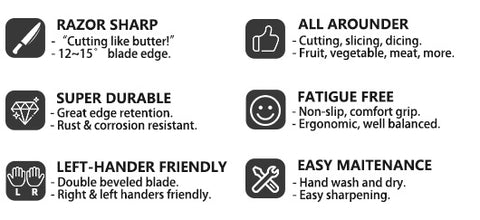 Blade Length: 8 Inch
Blade Edge: Double beveled, friendly to both right and left-handers.
Blade Material: VG10 Steel Core & 72-layer Real Damascus Layered Steel
Handle Material: ABS
Can be used for fruit, vegetables, meat, and more.
Knife Type: Chef Knife, Multi-purpose Knife
Product Series: Sonne Series

- Japan VG-10 steel blade core with 36-layer Real Damascus steel on each side.
- Mosaic-rivet ABS handle with an ergonomic design for comfort grip.
- Full-tang construction to achieve a superior knife balance.
- 12~15° edge angle for razor-sharp knife blade and ideal cutting force.
- HRC 60±1, premium durability.
- Superior sharpness, hardness & strength, better edge retention.

Great
Great knife, good quality.
Super happy with this knife
This is the nicest kitchen knife I own and is miles better than the other cheapo knives and at a reasonable price point. I am super happy with this knife.
Impressive knife
The knife was exactly as advertised, extremely sharp, well balanced and fits my hand very well! I use this knife as well as others I've bought in the same group. Mostly cooking, it's been used for a variety of different tasks. I definitely would recommend and buy again. Outstanding product!