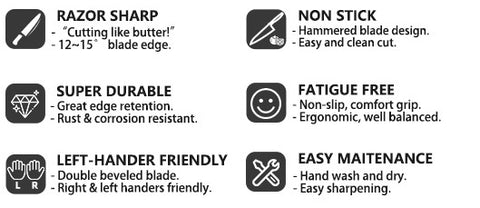 Blade Material: German 1.4116 High Carbon Steel
Handle Material: Pakkawood
Blade edge: Double Bevel
Product Series: K135 Series
Knife Type: Gyuto Knives, Meat Knives, Vegetable Knives, Japanese Kitchen Knives
Can be used for: Meat, fruit, vegetables, more.

This gyuto chef knife is constructed from high-carbon German steel 1.4116 which is tempered and hardened to a Rockwell Hardness of 56-58. Its blade remains razor-sharp longer than any other steel and resists rust, stains, and corrosion. The dimpled blade reduces drag, which allows the blade to glide through food without sticking.

The multi-purpose cooking knife can easily handle your daily kitchen tasks of cutting, slicing, chopping, mincing, and dicing. It's razor-sharp and perfect for chopping vegetables, slicing beef, skinning and slicing fish, poultry meat, and so on. A professional all-rounder for your kitchen.

The Pakkawood handle is triple-riveted, offering a perfect knife balance. The ergonomic design minimizes wrist tension and provides a comfortable grip. Even after prolonged use, your palm and wrist will not feel fatigued. Ideal for professional chefs or home cooking lovers.
Warm Reminder
1. Please keep the knife away from your body when cutting.
2. When not in use, please keep the knife safely in the sheath, knife bag, or knife holder.
3. Do not play with knives.
Razor sharp
Well balanced and razor sharp.
Very good knife
Very sharp very high quality knife.
Gorgeous knife!
Gorgeous knife with a beautiful and well made handle
Beautifully made and very sharp.
Beautifully made and very sharp.
しっかりした重み
思っていたよりもずっしりと重みのある牛刀です
手持ちの包丁より刃が厚くて刃渡りが長いので大物の野菜でも切りやすいです