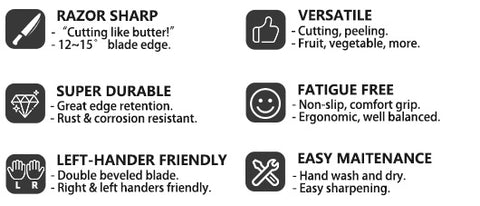 Blade Length: 3.5 Inch

Blade Material: VG10 cutting core+ 33-layer Real Damascus steel on each side
Handle Material: G10
Hardness Grade: HRC 60±1
Product Series: Classic Series
- VG10 blade core surrounded with 33-layer Real Damascus steel on each side.
- 60±1 Rockwell Hardness ensures exceptional edge retention.
- Full tang construction with ergonomic triple-riveted handle for stable and easy cutting.
- G10 handle is durable, mould-resistant, and corrosion-resistant.
- Special ice-forging process promises a long-lasting sharpness and edge retention.
- Double bevel blade edge, 15° edge angle on each side.
Warm Reminder:
1. Please do not use it to cut bones.
2. Clean with water and mild detergent after each use.
3. Hand wash.
4. Dry it thoroughly.
5. Please keep the knife away from your body when cutting.
6. When not in use, please keep the knife safely in the sheath, knife bag, or knife holder.
7. Do not play with knives.
Schönes Damszener Küchenmesser
Es ist schönes Damaszener Küchenmesser, welches gut in der Hand liegt. Es ist scharf und wird in einer schönen Geschenkverpackung versendet
Superior quality
High quality products, Individual detailing. This brand will replace the remainder of my kitchen knives
Couteau beau coupant et léger
Pour un cuisinier moi très bon couteau. Coupe très bien je fais attention d'ailleur.