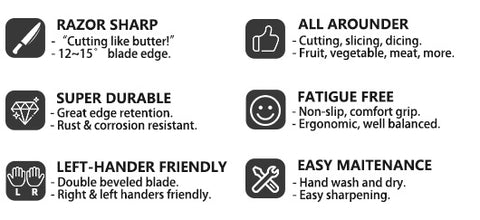 Blade Length: 6.5 Inch, 8 Inch
Blade Edge: Double Bevel
Blade Material: Japan VG10 Steel Core & 72-layer Real Damascus Steel
Handle Material: G10
Knife Type: Chef Knife
Product Series: Elite Series


Impressed given pricepoint
I actually think this knife is of a far higher quality than the price-point would suggest. This is a pretty good everyday knife. I thought the sharpness was good and the hand-feel was pretty good too.
Recommended for new upcoming chefs
very good knife for professional use.
Beautiful knife with excellent craftmanship, and very sharp!
The knife is sharp. It can slice through pork belly with thick skin without too much effort. It's a new knife so I haven't had to sharpened it yet after a month of daily use (I cook twice a day for 3 people, with meat and vegs in all meals), but I can tell its sharpness will last long as I haven't noticed any reduction of it. The blade is made of multilayer steel which is visible on the blade body - I am a fan of Japanese culture and I think this looks similar to how they made samurai swords back in the days.
super couteau
ce couteau coupe rasoir. pour ce couteau, la coupe est superbe. rapport qualité prix parfait. j'en ai d'autres 3 fois plus chers qui ne coupent pas mieux.