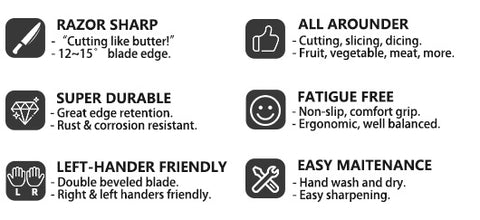 Blade Length: 8 Inch
Blade Material: VG10 cutting core+ 33-layer Real Damascus steel on each side
Handle Material: G10
Hardness Grade: HRC 60±1
Product Series: Classic Series

- VG10 blade core surrounded with 33-layer Real Damascus steel on each side.
- 60±1 Rockwell Hardness ensures exceptional edge retention.
- Full tang construction with ergonomic triple-riveted handle for stable and easy cutting.
- G10 handle is durable, mould-resistant, and corrosion-resistant.
- Special ice-forging process promises a long-lasting sharpness and edge retention.
- Double bevel blade edge, 15° edge angle on each side.

Warm Reminder:
1. Please do not use it to cut bones.
2. Clean with water and mild detergent after each use.
3. Hand wash.
4. Dry it thoroughly.
5. Please keep the knife away from your body when cutting.
6. When not in use, please keep the knife safely in the sheath, knife bag, or knife holder.
7. Do not play with knives.

My order didn't arrive yet
Track it if u can and then tell me to review
About the knife
I think that was the best knife I have ever purchased. Loved it and so happy to chop with that knife and i showed it to my friends and tell them to purchase that too.
Great
If you can only get one good knife for all round kitchen use this is one to consider.
Great Knife
"This is a perfect knife. I loved the look of it, the size, the weight... it was great to use and has quickly become my favorite knife for all my meal prep.
I would highly recommend this knife, especially if you are looking for a single knife solution."
Meets expectations.
Just what I wanted. Very nice, functional, and affordable product.